SAP External Services Management (MM-SRV), is a less used but important application component of the SAP MM Module. It supports the complete cycle of bid invitation, internal and external purchasing documents, acceptance of services as well as the supply chain invoice process.
In addition to your own workforce, many companies are now employing external service providers to carry out the work on their behalf. This could be due to a number of reasons i.e. costs, training, availability etc. Within oil and gas companies, most offshore services are provided by one of the many service operators based in the area.
MM Services provides a basic process for the procurement of 'externally performed services'.
Different with any other use within SAP of managing services externally, there are distinct advantages with using MM Service (MM-SRV).
Improved granularity for reporting and analysis.
Catalogue and General Ledger account definition for Purchasing and Financial reporting.
Fully integrated with Capital Expenditure (PS) and Operation Expenditure (PM) modules.
Integrated within Contracts, RFQ's, Requisitions and Purchase Orders.
Better Invoice Matching.
Management of both Planned and Unplanned Services.
Today, all companies will procure 'services' in some form or other, but many will use either a shortened material master record or free text. These have their advantages, but generally only in entering the service – they both will have disadvantages in other areas:
Master Data creation and accuracy.
Various naming conventions used for manual entry and keying in errors.
Manual assignment of Material Group and General Ledger Account leads to incorrect financial postings and journal corrections.
As with using Material Masters, MM-SRV, provides a simplified master data object to utilise. This 'Service Master' allows for the definition of all the services that may be procured, the categorisation of them based on either an internal or standard service catalogue, definition of the General Ledger account and postings and will also cover both planned and unplanned services.
More importantly the procurement process when utilising MM Services is the same and requires only a couple of minor changes to the procurement documents: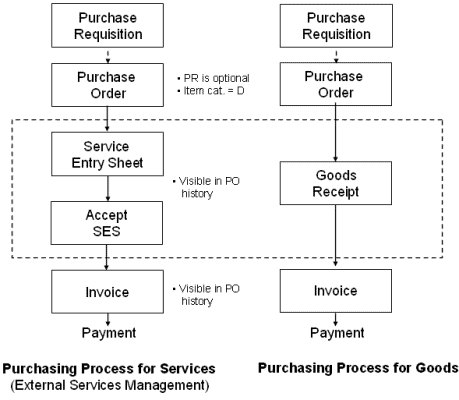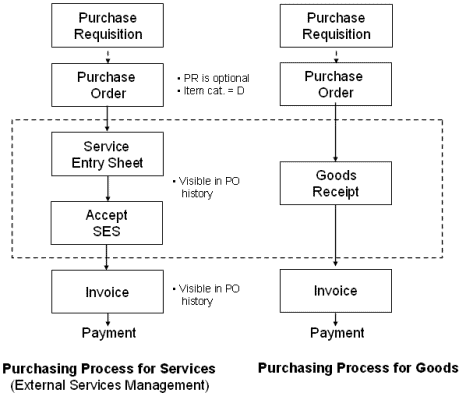 (Image courtesy of SAP)
Like any process within SAP, there are some disadvantageous when using MM Services, but these can be determined upfront and with Absoft's experience in this area be defined and worked on:
Some increased resource in defining the service detail at the Contract Stage. This however would be in line with the detail and definition agreed with your Service provider.
As better granularity would be defined in your purchasing processes, a review of purchasing and financial reporting could be required to work with the new level of detail.
Like other purchasing processes, there would still be some difficulty in the lack of flexibility to handle unexpected overrun costs and discrepancies – however using MM Services would allow for some flexibility around managing multi line documents more effectively.
In setting up your procurement process at the document line item level, the level of detail defined is normally not of a sufficient level for detailed and accurate reporting. You are also constrained when the value of the Service Entry or Invoice exceeds the value of the line item.
With MM Services you can create 'Service Lines' within each line item, allowing you to better define the details of the service and also manipulate better the recording of the Service Entry or Invoice.
So the Contract Details are maintained upfront, either manually, via an upload or by linking SAP to your Contract Management System. The Purchasing process from this stage on is as per your standard SAP process, the only addition is that the goods receipt is replaced by the entry of a Service Entry Sheet.
The Service Entry Sheet entry can take on many forms and be entered either internally or by your Service Provider. However this is the means in SAP for reducing your purchasing commitment and booking the costs to your cost object, general ledger account.
Potential ways of entering an SES in SAP:
Standard SAP transaction.
Via Absoft's Neptune template where Absoft can provide and customise to your individual needs.
Via a Portal, where your Service Provider can enter the work carried out.
Via a Timesheet, interfaced to SAP for the SES. This could be Internal or external.
Upload File provided by Agency who manage Contracts for work being carried out.
Wait for SAP to publish the Fiori Maintain Service Entry Sheet App as part of the simplification of the logistics modules.
For externally entered Service Entries, these can then be accepted/approved internally by the cost object manager, person who required the work or where your process is refined and accurate, not be accepted/ approved. Either way unless you are using two matching of your invoice and purchase order, the service entry sheet is a precursor to the entry of the Invoice. Acceptance and approval of the Service Entry sheet can also be managed via different vehicles and is not necessarily required within the SAP system.
SAP Workplace
SAP Fiori Application.
On Mobile devices i.e. Blackberry, Apple, Smartphone using workflow
Within the oil and gas industry, operators have a large number of rental contracts, orders and items to control. Using SAP MM service allows for better integration and control of rentals as well as being fully integrated with the SAP RLM Remote Logistics Module. SAP RLM creates a non-valued item which acts like a service item and is fully integrated into the shipping functions such as cross docking, packing, shipping and returns.
SAP MM Services (MM-SRV) is a simple yet accurate way to manage the procurement of services from an external provider. It gives an effective way to hold limited but important information on services – cataloguing, financial information, yet will not make you need to change any of your current purchasing processes and can lead to better reporting and more effective ways to work with your services provider.