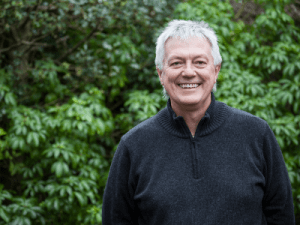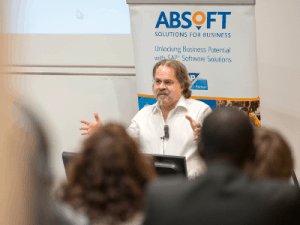 Global financier, social entrepreneur and RGU graduate Duncan Skinner will address students at his former university in Aberdeen at this year's Absoft Entrepreneurship Lecture.
Mr Skinner will share his entrepreneurial story with over 300 students, explaining how he became chief financial officer of a world-leading company with 28,000 employees, and then went on to save social enterprise Glencraft from liquidation, protecting 42 jobs in the process.
The entrepreneur will appear alongside Absoft managing director Ian Mechie and encourage students to take part in this year's Converge Challenge, Scotland's premier business competition which offers a prize fund of £100,000 to turn ideas into a reality. The entrepreneurial duo will also take part in a master class session to answer questions and share further knowledge and experiences with students.
Duncan began his entrepreneurial journey when he and business partner Bob Keiller borrowed $300m to buy PSN from Halliburton subsidiary KBR. They were later sold in an outstanding deal for $1billion to Wood Group in 2011.
On the lookout for his next project, Duncan came to the rescue of Glencraft, formerly the Royal Workshops for the Blind, which was facing liquidation; and transformed the social enterprise into a successful and sustainable business. 
The renowned entrepreneurship lecture series at Aberdeen Business School is now in its 19th year and has been sponsored by specialist SAP software consultancy Absoft since 2002. This year's lecture will take place on 12th February.
Mr Mechie, managing director of Absoft, said: "Duncan Skinner's passion for business and social enterprise is inspirational. He is committed to lifelong learning and giving back to the community and his story will provide the students with a valuable insight into how to become the successful entrepreneurs and business leaders of tomorrow."  
Duncan has devoted a great deal of his time to helping others, and is also Chairman of Aberdeen Football Club Community Trust and holds positions with a number of charitable causes and organisations in Scotland. He has a Bachelors degree in management from the Robert Gordon University and was named The Ernst & Young Social Entrepreneur of the Year 2013.
Professor Rita Marcella, Dean of Aberdeen Business School, said: "Aberdeen Business School is grateful to entrepreneurs like Duncan and Ian for giving the time to share their wealth of knowledge and experience with our students.
"I'm particularly delighted that Duncan, as an alumnus of Aberdeen Business School, is giving the lecture this year and passing on his knowledge and experience to students starting out on their careers."
Want to know more? Click here or contact entrepreneurship@rgu.ac.uk for more information.