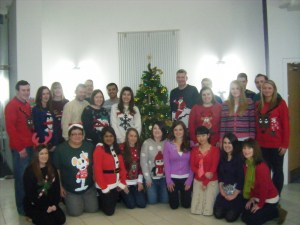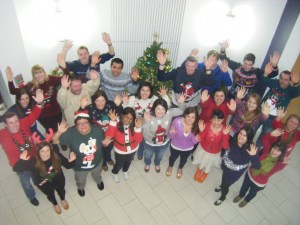 Absoft staff joined the woolly revolution to "Make the World Better with a Sweater" on Save the Children Christmas Jumper Day.
Christmas Jumper Day gives everyone around the UK the chance to have some festive fun while raising money to provide life-saving care to children in the poorest parts of the world. The idea is to wear a Christmas jumper on Friday 13th December and donate at least £1 for taking part.
The Absoft team really entered into the spirit of things and brightened up the office while raising money for a valuable cause.
Rachel Lee, chair of the Absoft Charities Committee, which organised the Absoft effort said: "This is a great fundraiser to be part of, particularly in the office where you are more used to suits than snowmen jumpers.
"Christmas Jumper Day is not only good fun, but helps raise much-needed funds for Save the Children."
In the world's poorest countries, more than 7 million children die every year from easily preventable causes like malnutrition. Simple solutions, like vaccines and mosquito nets save lives. With the money raised from Christmas Jumper Day, it's those kind of simple solutions that can be achieved.