It is common in new (and not so new) SAP implementations, to have financial reporting challenges.  Questions and issues often circulate in Finance departments, such as;
Our Income Statement in SAP doesn't reflect our economic model
We manipulate our local GAAP/ IFRS figures in excel
Our BW team spends a lot of time 'fixing' our Income Statement/ P&L
We've upgraded to ECC but don't use New GL
I don't know why we use that field
What dimensions are available to describe our economic model?
Available dimensions include – Ledger, General Ledger Account, Business Area, Segment/ Partner Segment, Profit Centre/ Partner Profit Centre, Cost Centre/ Partner Cost Centre, WBS Element, Trading Partner, Transaction Type, Joint Venture, Equity Group, Fund, Functional Area/ Partner Functional Area…user defined fields…
A lot of options! These dimensions are usually used to describe Legal, Geographical, Product, Functional and Responsibility dimensions of an organisation's economic model.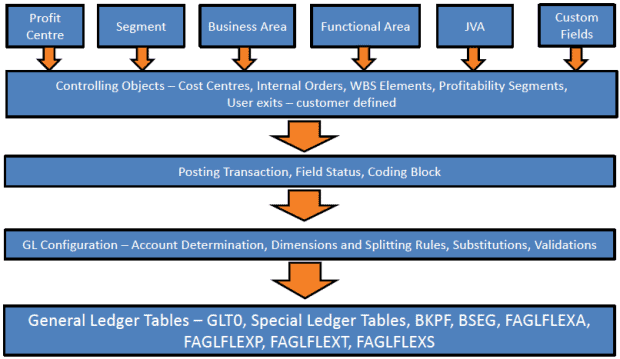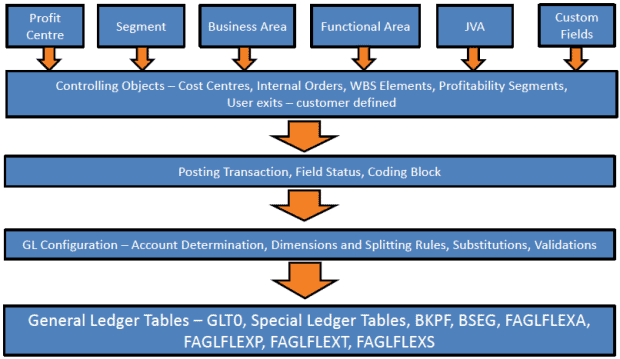 Where Are You Starting From?
You might be starting with the SAP Classic General Ledger – tables such as GLT0 – General Ledger transaction data, Joint Venture Accounting Ledgers (4A, 4B, 4C, 4D, 4E, 4F), Profit Centre Accounting Ledgers (8A, 8C, 8E), other ledgers plus customer built ledgers.
Classic GL will be supported indefinitely (at the moment). If you remain here, however, you'll be unable to leverage benefits of New GL/ SAP Finance on HANA. Posting and reporting from the Classic GL model is relatively cumbersome and slow. There are also typically reconciliation issues between Classic GL, Profit Centre Accounting, Special Purpose Ledgers and Controlling Modules. These reconciliation issues are disappearing as ledgers are gradually rolled together with New GL and SAP Finance on HANA.
SAP Finance data can become more powerful when it is combined with data from other modules…however…
I've come across many cases where critical reports have been badly written in R/3/ ECC. A Transfer Price report for a pharmaceutical company, Distribution Logistics KPI/ cost report for a beverage company and Project Cost KPI report for a large Upstream Oil company are a few examples of these types of reports. Very long run times and uncertainty about the accuracy of reported data are some common issues. Managers and Decision Makers are relying on this information to manage contracts, risk and purchasing decisions.
The point of these examples is, that the SAP Finance system does not exist in isolation. There may be elements of logistics, production, projects and other areas that need to form part of your analytics and decision making models.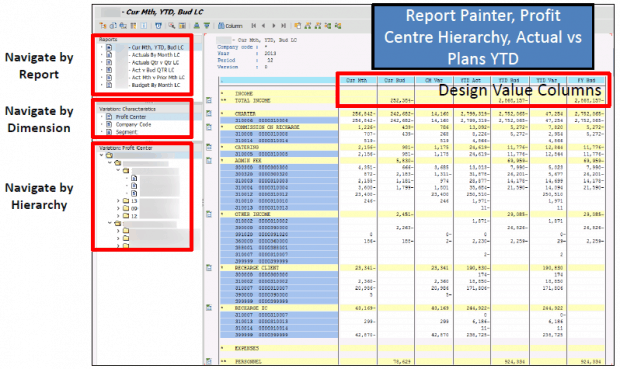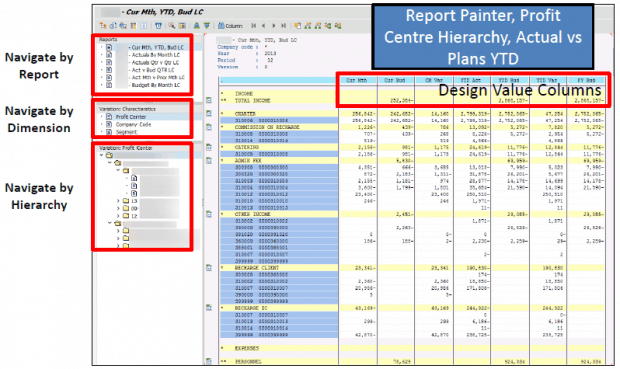 Where Can You Get To?
A new definition of one source of the truth – transactional line items become the truth, rather than data aggregates in ECC and/ or BW. Aggregates suffer from a certain degree of opacity – partly removed from the transactions that make them up and not necessarily suitable for your reporting needs. Transaction level, on the other hand, is the most granular level of detail, are the best source of truth…and, potentially in real time!
Developments in SAP Finance on HANA mean greater transactional alignment between FI and CO. These do not yet cover all FI and CO module interactions (there are questions about costing based COPA vs FI in SAP Finance on HANA at the time of writing, for example).
Absorbing PCA into New GL – 8A and other PCA ledgers can be absorbed into the New GL. The New General Ledger splitting functionality means that the Profit Centre/ Partner Profit Centre dimensions can also be balanced in real time (rather than via periodic proceses).
The option exists to absorb JVA/ other special ledgers into the New General Ledger main ledger/s (whether New GL or SAP Finance on HANA).
SAP Finance on HANA – incorporate all of your General Ledger dimensions into the transaction posting. Finance on HANA then allows fast posting and reporting retrieval. This method removes the need for reporting aggregate structures due to the fast access of HANA based reports direct to transaction data. Hasso Plattner discusses this idea.
This blog is great, but you still need to get the underlying posting logic correct. Having a Finance system using HANA could just mean that you can report your inadequate model more quickly. If your Finance team spends a day posting corrections at monthend, there's something fundamentally wrong.
How Do You Get There?
What is the magnitude of the change required? If the change is fundamental, it could be a 6-12 month project, or longer, to get it aligned as required.
What are your most granular Finance reporting requirements?
Are there highly manual correction processes performed by your Finance Team?
What data from other modules/ systems needs to be included for key Key Performance Indicator reporting?
What data from other modules can drive postings in your finance dimensions? Often transactions that involve data in other SAP modules needs to drive the Finance dimensions posted to (e.g. Customers, Vendors, Materials).
Consider New GL and SAP Finance on HANA and the associated migration paths.
Significant shifts in Financial/ Management Accounting can be aligned in a New General Ledger migration…
SLO – SAP System Landscape Optimisation service – migrate existing or legacy data to a newly configured SAP Finance Data model.
New GL migration services – migration cockpit service provided by SAP.
Create a new system – a new system may be a reasonable option if your current system is heavily bespoke and a long way from where you'd like to be.
For more information please contact Absoft.