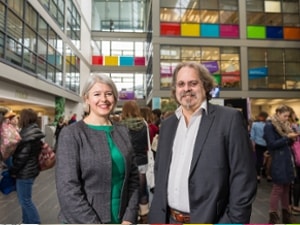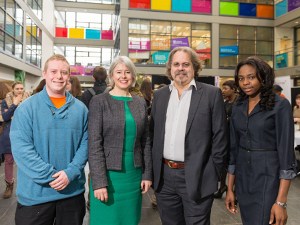 Budding entrepreneurs have heard about what it takes to build a successful business, from the creator of an award-winning gluten-free food brand, Lucinda Bruce-Gardyne, at the Robert Gordon University in Aberdeen on Thursday 13 February.
More than 200 students attended the annual Entrepreneurship Lecture, to hear from the founder of Genius Foods. The prestigious event, which is in its 18th year and has been sponsored by leading independent SAP software consultancy Absoft since 2002 was held at Aberdeen Business School. 
Lucinda has six years' experience at the helm of her own firm, and been recognised for her hard work with several major industry accolades including Emerging Entrepreneur of the Year 2011 at the Entrepreneurial Exchange Scotland awards, The Price Waterhouse Cooper Private Businesswoman of the year 2012 and Ernst & Young UK Emerging Entrepreneur of the Year 2013.
The mum of three began her journey in enterprise after deciding to create a special loaf of bread for her son, after he was diagnosed gluten-intolerant.
After making her way through three ovens, and many different combinations of ingredients, Lucinda created a ground breaking, tasty loaf her son was able to eat – and enjoy. That simple loaf led to the creation of Genius Foods in 2007.
Since then Genius has become a well-known brand which makes a range of free-from products ranging from bread, to seeded rolls, crumpets, pancakes and pastry.
Among the students who attended the event were Karan Dakup and Seb Coles who said Lucinda's success has inspired them to push forward with their own business ideas.
Karan, a 27-year-old management research student, said: "It was really interesting listening to Lucinda. I found the lecture incredibly informative. Lucinda's success story is amazing and her expertise in business really helped me as I plan to run my own renewable energy business one day."
Seb, a 23-year-old computer science student, said: "I found the day really motivational. I currently run my own business, Vital Cybersecurity UK, having taken part in the Cybersecurity UK Master Class competition. I came joint third and won £5,000, which I invested in my firm. Ian Mechie was inspirational and I look forward to having more discussions with him regarding IT."
Lucinda told the students: "When becoming an entrepreneur it is important to have a great product, think big and surround yourself with a team of people who are as passionate as you are. It is also important to invest in your brand, never become complacent and listen to your consumer, and above all– enjoy the ride."
Mr Mechie, managing director of Absoft, said: "Genius Foods is one of the most inspirational business stories in Scotland and has transformed the lives of people with gluten intolerances allowing them to live more normal lives.
"It never ceases to amaze me how many young students are ambitious enough to take on the challenge of becoming their own boss, and I am delighted to have been able to share my entrepreneurial experience with the students by supporting this lecture over the years."
Lucinda co-hosted a round-table discussion with Mr Mechie for a group of students after the lecture.  Lucinda said: "Passion is at the heart of our approach and I hope we have been able to impart a bit of that to the students today."
Mr Mechie added: "The round-table was a great opportunity for the students to learn from Lucinda and me in an interactive session."
The session was introduced by Professor Heather Fulford, academic director of RGU's Centre for Entrepreneurship and Rita Marcella, the dean of Aberdeen Business School, closed the lecture.