In 2015, benchmarking organisation APQC reviewed the Accounts Payable (AP) costs for approx. 1,000 organisations. Dividing the annual AP process cost by the total number of invoices processed annually resulted in the findings depicted in the following bar chart: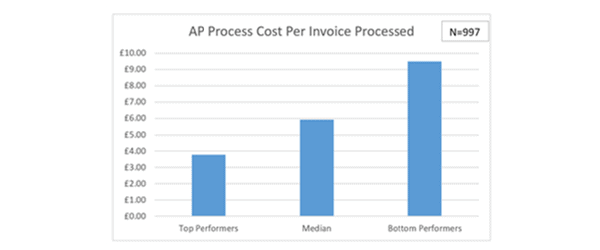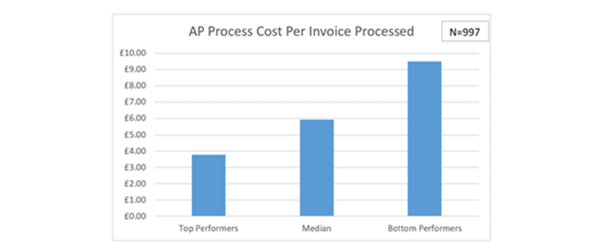 (SOURCE: APQC, 2015)
How can it be that some companies spend nearly twice as much than the top performers spend per invoice?
Since labour costs are the single biggest component of the cost side in this equation, it was perhaps not surprising that levels of manual intervention were found to be the main difference between bottom and top performing organisations.
So what is it that drives the need for manual intervention?
On behalf of SAP specialists Absoft, my blog addresses this question and argues that strong integration between invoice approval/automation software and a core SAP ERP system is crucial towards driving down AP process costs, and ultimately, optimising purchase to pay processes.
Manual Intervention – The Cause
The diagram below identifies just some of the more common invoicing issues that drive manual processes: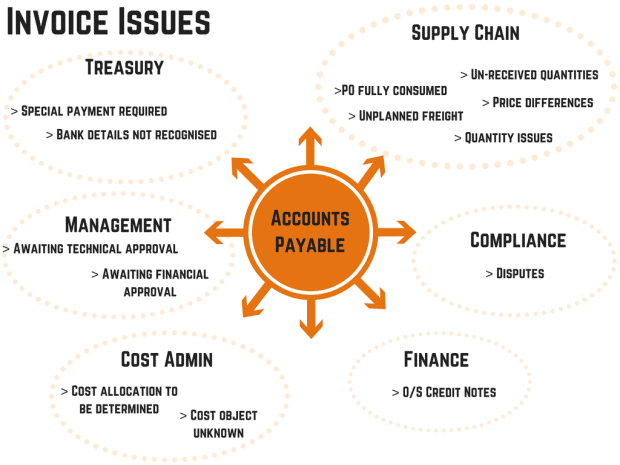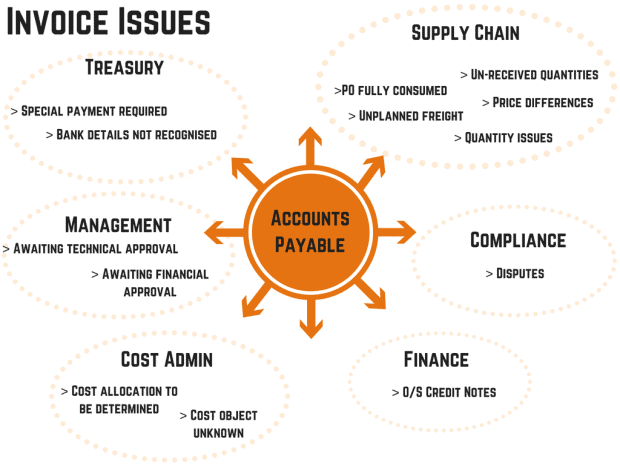 The diagram highlights situations that exist for the typical bottom performer found in APQC's study. The majority of time spent by the AP department is not related to the core function of processing invoices, but is instead taken up by acting as a coordinator of invoicing issues borne of inefficiencies in other departments.
Whether it's the buyer who continually doesn't account for delivery costs on their PO, the vendor on-boarding process (which allows a vendor to be registered without vendor bank account details) or the manager who doesn't nominate a proxy whilst they are on-holiday – one thing is certain – it is often the AP department that is faced with resolving these issues. N.B. In a number of cases, Absoft has seen this activity displaced to high cost teams like SAP Support.
This expediting role is one reason why many organisations have failed to achieve the AP cost savings they hoped for when offshoring their AP function. Organisations will often be successful in reducing the cost of the core AP activities for scanning and processing invoices but find that they cannot do without the expediting/coordination function – which tends to be local and therefore a higher labour cost. Indeed, the offshoring often adds to the need for expediting/coordinating and the result is "robbing Peter to pay Paul".
The Solution
Returning to the invoice issue examples in the diagram, you typically find that the solutions to these issues necessitate updates to your SAP system. Bank account details need to be updated in the Treasury module, holiday substitutions need to be updated in the HR module, Purchase Orders need to be updated to cater for unplanned freight costs in the Materials Management module.
What is striking is that that the existence of many of these errors can be derived systematically – they don't need the intervention of the AP department. The fact that there are no bank account details for the vendor, the fact that the manager who will approve the invoice is on holiday and that there are no substitution/proxy rules and the fact that the PO referenced on the invoice has been fully consumed can all be derived systematically.
This is where the SAP integrated invoice automation solutions such as Lexmark's AP Automation solution tend to come into their own. They have the capability to investigate and identify the root cause of invoice issues in the other SAP modules – as an example, see the screengrab below where the system has identified an issue with the vendor bank account.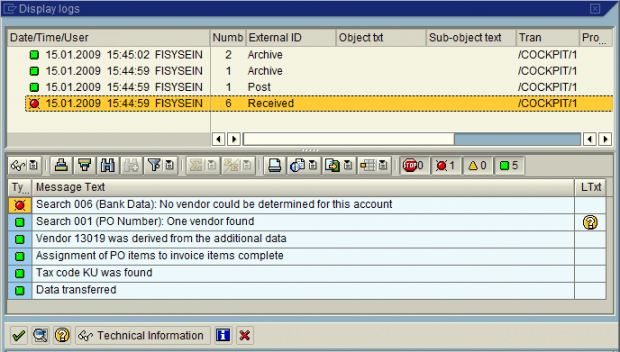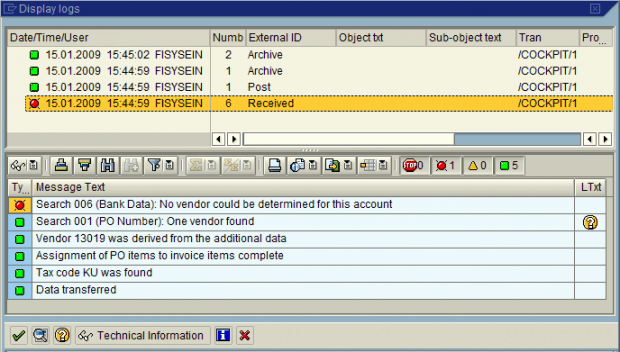 They also, crucially, offer the functionality to raise workflows to make these issues known to the functions/departments that are responsible for fixing the issues and offer facilities to monitor the health of your invoice processing function by individual invoice, issue type, department/function level and organisational level.
I am not suggesting that there will be no manual intervention required using an SAP integrated invoice automation solution – but it will make a significant difference to the amount of manual processing performed, and consequently, where your organisation sits on the top – bottom performer spectrum.
When working with our customers, Absoft has found that the benefits of using a SAP integrated invoice automation solution aren't just confined to a reduction in manual intervention – the overall health of the purchase to pay function increases dramatically.
In Absoft's experience, publishing root cause analysis dashboards available in SAP integrated invoice automation solutions has driven improvements outside of AP which has contributed significantly to optimising purchase to pay processes. Some examples of the improvements we have seen are outlined below:
Purchasing – organise PO structuring training for their buyers – leading to significant increases in invoice matching rates
Purchasing – develop rules for allowable thresholds of unplanned delivery charges – minimising non-value added interventions
Requisitioning – tighten the rules governing free text (as opposed to material or service master based) procurement – improving invoice matching rates
Management Approvals – change holiday management processes to ensure that the system has default rules for determining substitutions/proxies – reducing wasted management time and improving payment on-time
AP/Procurement/Treasury – improve vendor on-boarding processes and procedures to ensure that all information was gathered on the first engagement with a prospective vendor – again reducing manual intervention and improving payment on time
AP – drive the migration from paper-based to electronic invoicing – lowering manual AP costs
Each organisation will of course have its own improvement areas and profile. The key message is that a strong invoice automation solution, with root cause analysis reporting, will drive improvement in the activities that result in the invoice "not touching the sides" in AP processing – the ultimate determinant of your AP cost profile.
Summary
Whilst invoicing solutions with light touch SAP integration can seem attractive for reasons of cost or ease-of-use, SAP integrated invoice automation solutions have the power to significantly reduce the manual labour costs that differentiate between top and bottom performers.
Through their strong, integrated reporting functions, these solutions also drive improvements into purchase to pay processes which optimise the likelihood of an invoice matching with no manual intervention.
We hope that you found our blog informative. If you'd like to learn more, or share in your own experience of invoice automation solutions, we'd be delighted to hear from you. For more information about the topics covered, contact Absoft.
Want to know more? Watch Absoft's demo on how to streamline invoice processes with online scanning and automation. Alternatively, please contact us below: