After attending Microsoft's recent SAP on Azure tour in London, it was clear to see the partnership between the two companies is only going from strength to strength.  Microsoft have invested heavily into Azure infrastructure to support the latest SAP technologies and have announced collaborations to make data more accessible, and are empowering partners to make best use of both platforms to benefit their customers.
Read further for more takeaways: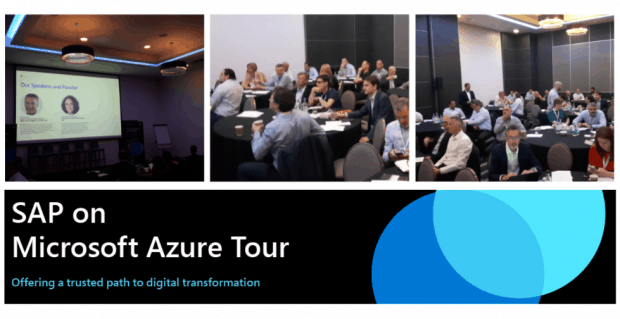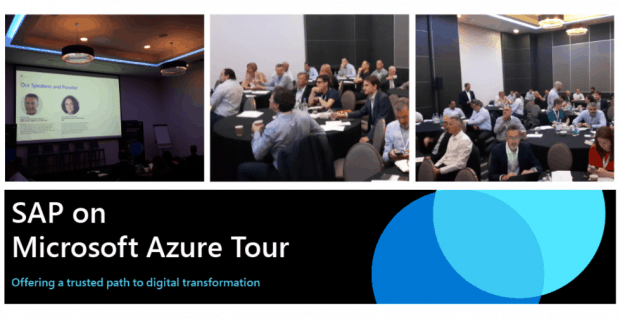 Why use SAP on Azure?
One of the big take-aways from the event, was the investment in technology from Microsoft, especially around HLI (HANA Large Instances).  This enables up to 80 Intel CPU cores and up to 24 TB of memory – and we're expecting an announcement soon of even larger machines!  HLI has snapshot capability as standard, for taking consistent backups of both the machine and the HANA database.
Even if HLI is not suitable for your landscape or organisation, there are still many reasons to use Azure for your SAP estate.  Doing so brings security, scalability, enhanced analytics, monitoring, and easier management. The benefits to your business can be seen in savings on hardware cost, avoiding overprovisioned hardware due to right sizing, faster time to market, reduced cost of physical space, and a smaller team to manage.
Choosing a partner such as Absoft, who are both an SAP and Microsoft partner, means we have the knowledge and experience to apply these benefits, through understanding the distinct nuances for each technology to reap the largest benefits.
Azure allows both Microsoft and SAP to change the way DevOps are done in your organisation.  Azure allows rapid sandboxing and you can ask you SAP partner about loaner licenses from SAP, meaning you can try out SAP products, to produce a Proof of Concept at little cost to see if these can produce real business benefits. BW/4HANA is a prime candidate for this!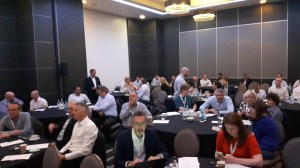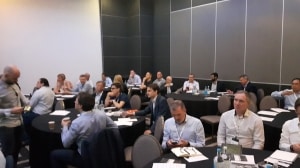 Other Announcements
SAP and Microsoft detailled their recent announcement of a joint partnership: the Open Data Initiative. Both SAP and Microsoft, together with Adobe, are collaborating on making data between their platforms more accessible. The Open Data Initiative is a CRM data lake which can take data from Adobe Experience Cloud, Microsoft Dynamics 365, Office 365 and SAP C/4HANA, and provides a platform for a single, comprehensive view of your data.  A single source of truth and AI driven insights make this very powerful.
My favourite announcement (I am a BASIS consultant after all) from Microsoft is that Availability Zones has now been rolled out in the UK!  This means an SLA of 99.99% uptime for your SAP systems is now possible completely within the UK.  Previously a datacentre in Europe had to be used.  This is particularly important for organisations with data restrictions.
I found one of the most interesting topics discussed was the recent memory technology advancements from Intel.  Intel have recently delivered to market Intel Octane – a persistent memory technology.  This typically sits as an extra memory tier between DRAM and traditional persistent storage.  From SAP HANA 2.0 SPS 03 onwards, SAP HANA is now optimised to take advantage of this technology.  HLI instances with Octane will also be coming to Azure soon too – look out for HLI Gen 4, with Cascade Lake processors!
Other new Azure technologies recently announced, or in public preview are Express Route Fast Path and Ultra SSDs. Express Route Fast Path gives a lower RTT between your on-premise network and Azure – which might be useful if you're having latency issues.  Ultra SSDs are VM attached storage which are faster than premium disks.
Operations Service Provider
As Azure allows for new models of software platforming and costing – there was some talk about how this can be taken advantage of by customers, using partners to take away some of the burden of SAP ownership.  Absoft can take care of an entire SAP estate, meaning you can have SAP as a complete SaaS offering, with one supplier, and not have to worry about functional configuration, hosting, or day to day maintenance.  This so called "Operations Service Provider" model replaces traditional separate support, managed service and hosting offerings.
The idea behind this is you can pass the day to day management to Absoft, while you concentrate on improving and optimizing the business through the new technology available.