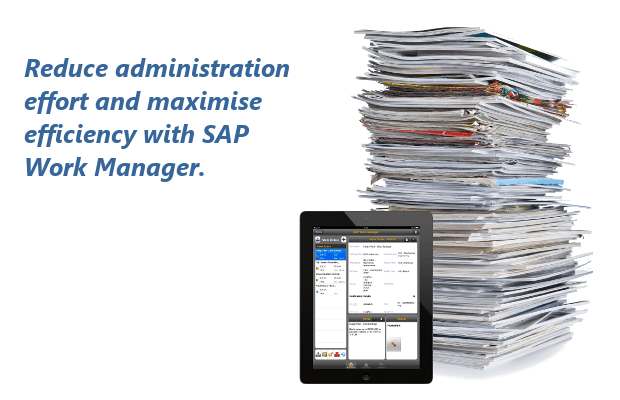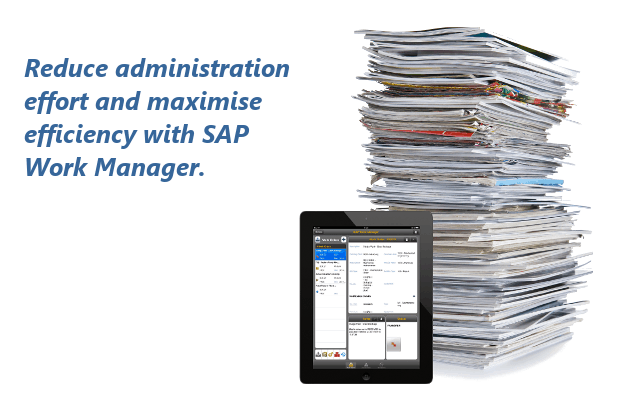 SAP Work Manager can transform your business today. Technicians will see the immediate advantage of having a wealth of information in their hands and SAP will no longer 'get in the way'. The business will benefit from more accurate, up-to-date information, allowing decisions to be made quicker and more effectively with better cost control. Moving from a paper to mobile workflow will dramatically reduce administration effort and maximise efficiency… Fewer steps with improved results:


"Remember the dream of the paperless office?"
In our modern world, technicians are required to deliver critical support of assets without interruption or delays. To achieve this, it is often necessary to take a lot of information into the field with them; work instructions, technical drawings, manuals, maps, photographs… All of which will be in paper form to be carried around often inhospitable environments. 
Technicians also gather asset information, including any faults/ issues, taking notes to be later transferred into SAP when the technician returns to the office. All of which means we have a business that has lots of information, but information that will only be available to the business later, not immediately. Paper has been invaluable for thousands of years, but is as analytically useless now as it was back then!
Now imagine a world where the same technicians have all the information they require in a single device. This is where SAP Work Manager excels; work orders are prepared as normal in SAP and are assigned to the device with a simple tap. When technicians enter the field, they will be armed with all the information required to safely and efficiently perform their tasks, and critically, data they record will be immediately available for analysis. All of which can be achieved without having to carry a filing cabinet with them!
What about when the unexpected occurs? Need to look up a technical drawing to identify the correct spare part? Upload a photo of a cracked pump casing? Review asset history to understand how a fault was previously resolved? By providing mission critical data at the point of performance, SAP Work Manager has the technicians more than covered.
Technicians can now instantly record their findings 'at the scene', reducing the risk of diluted quality data. No longer need there be a delay between discovery and reporting, vital data can be recorded and uploaded immediately. Supervisors and managers can now make informed decisions based on real-time information. Todays data is available NOW, not tomorrow.
Time-writing can also be captured directly to their device. This information allows planners to view work in progress in real-time; Are we on plan? Do we need to deploy support or reschedule? With SAP Work Manager, wrench time is increased by dramatically reducing administration overheads.
Watch this video to see screen shots of SAP Work Manager.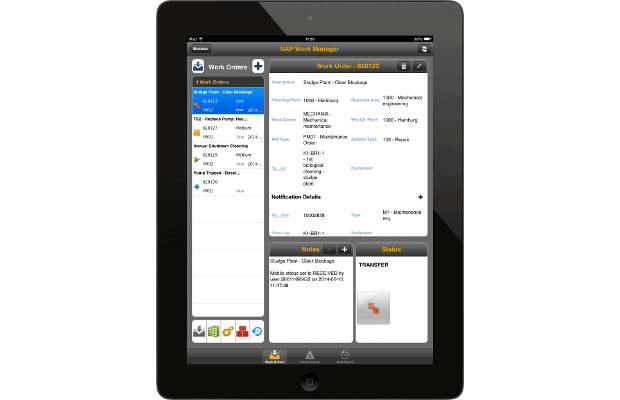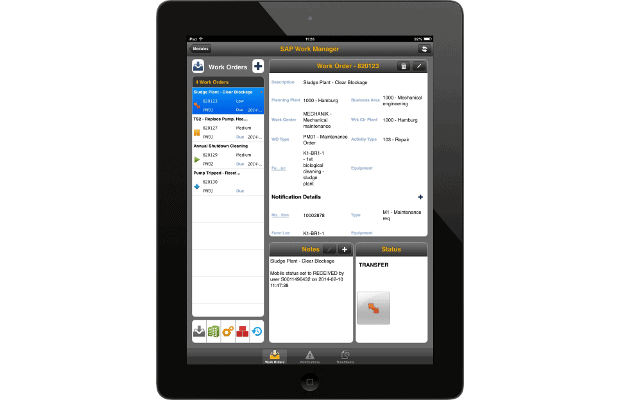 So, what are the business benefits?
By literally putting SAP into technicians' hands it connects, informs and empowers the workforce to carry out superior asset management, allowing managers to make better, more informed decisions, every day.
Increase asset availability and minimise unplanned outages
Increase operating equipment effectiveness
Increase return on assets
Reduce annual maintenance costs
Optimise preventative vs unplanned maintenance
Promote 360o view of operations
Maximize the value of existing backend systems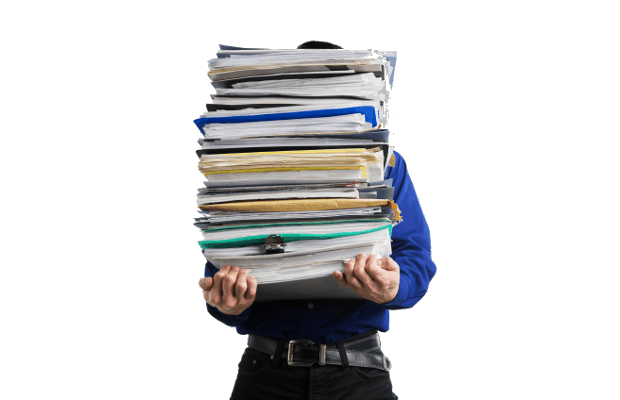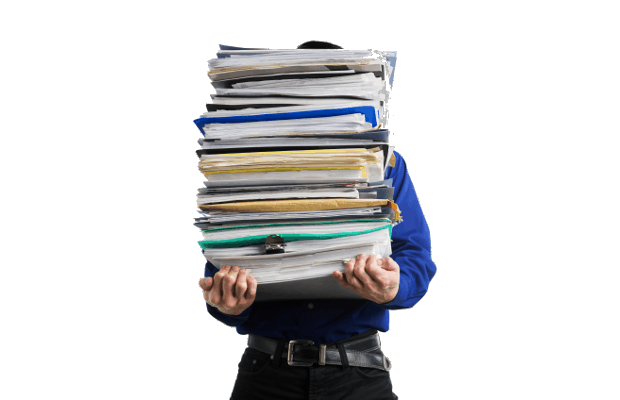 by Craig Kennedy, SAP Consultant