Solution Manager 7.1 is a powerful tool for managing a SAP implementation and even a wider IT landscape.  It includes features for change control, project management, project documentation, test automation, technical monitoring and landscape documentation amongst many others.
Despite an awareness of these functions, a lot of customers have a Solution Manager 7.1 system and use it only with the bare minimum configuration for mandatory uses that SAP requires.
Solution Manager 7.1 does not have a license cost in most cases, but it is another system to manage, configure, patch and host.  The cost is especially prominent just now as support for Solution Manager 7.01 ended on the 31st of December 2013, so most systems have been upgraded to Solution Manager 7.1 within the past few years.
Many of our customers are keen to make more use of Solution Manager but are unable to as much of the functionality is perceived as difficult to set up and configure, or it may require a full functional implementation project.
This article lists some quick wins that you can do easily to improve the return on your Solution Manager investment.
Prerequisites
The minimum configuration for a Solution Manager 7.1 system is to have the configuration steps 'System Preparation,' 'Basic Configuration' and 'Managed Systems Configuration' completed in transaction SOLMAN_SETUP.  There is good online documentation as you run through these steps, but if you require any assistance contact us for help.
These steps make use of transaction SOLMAN_WORKCENTER, which displays tabs (workcenters) based on your user's roles.  If you find any tabs are missing, you can generally identify the role you need from the documentation or from a search on roles *SMWORK* to list all workcenter roles.
Quick Win 1: Ease your daily checks – Technical Monitoring
Time to set up: 1-2 days, possibly with further time for tuning.
Return on investment: Faster daily checks could repay your time within months
Technical monitoring is one of the easiest areas to set up in Solution Manager.  Start by running through the configuration wizard in transaction SOLMAN_SETUP.  You need to follow the 'System Monitoring' part of 'Technical Monitoring'.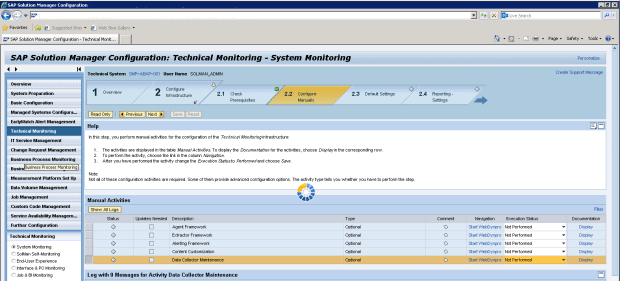 After it's configured you can see a logical overview of your systems in 'Technical Monitoring' in transaction SOLMAN_WORKCENTER.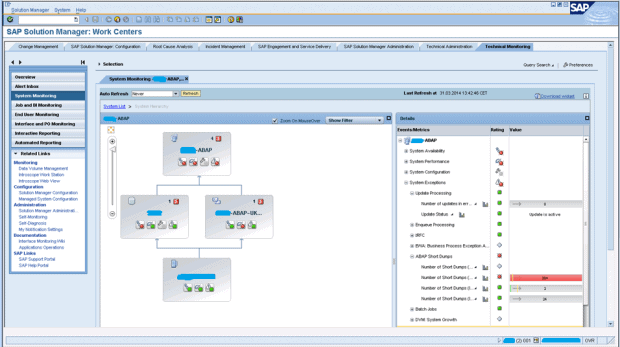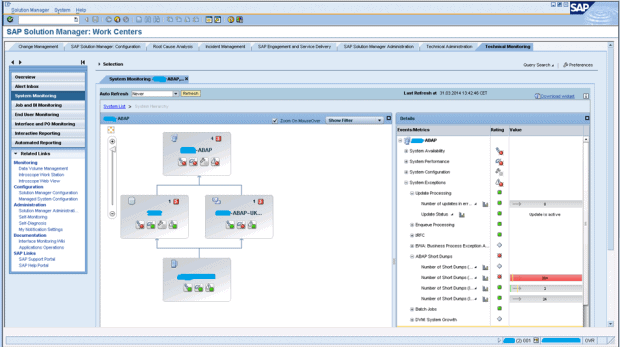 The hierarchy on the right shows detail.  You can right-click elements to set their thresholds, as you are likely to find it is a sea of irrelevant errors at first.  Tuning the monitoring is the most time consuming part, but including the configuration wizard you can expect to get something reasonably useful within a few days of effort for a small landscape.
Last year I implemented this functionality for a major distribution company and their administrator uses it to perform his daily checks from a single system, which reduces the time taken for the checks and also helps him to manage current issues.  The single overview is great to free up employees from daily checks and let them look at higher value activities.
We use a similar, but bespoke, monitoring system for our Managed Service that enables us to support a large number of systems cost effectively, and the centralised monitoring is absolutely fundamental to providing a cost-effective service from a UK-based team.
Quick Win 2: BW Process Chain Monitoring
Time to set up: 1-2 days
Return on investment: No manual process chain checks could repay your time within weeks
If you use SAP BW and manually monitor process chains, Solution Manager can automate that too.  Even if you use the email functionality built into BW to alert you to failing chains, it is difficult to monitor for the case where a chain hasn't run at all, but BI Monitoring in Solution Manager picks up all failure scenarios.
Solution Manager has long had the ability to monitor process chains, but earlier versions were based on configuring complicated job monitoring to detect the various scenarios.  In Solution Manager 7.1, the interface is user friendly and designed specifically to integrate well with BW.
BI Monitoring is part of Technical Monitoring.  One of the prerequisites is to set up system monitoring for your BW system as above.  Next you have another wizard to run through under Technical Monitoring, "BI & Job Monitoring" or "BI Monitoring" depending on your patch level.  The setup guide is important and contains prerequisites that you need to get right.  The wizard helps you to configure which Process Chains you want to monitor, and set options like the latest acceptable start time for each chain to generate alerts.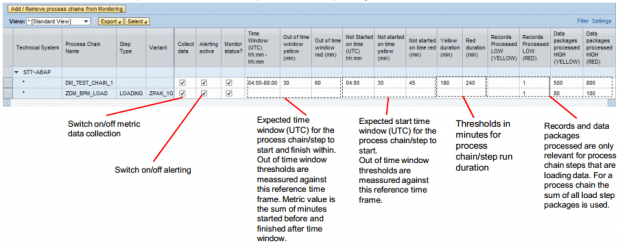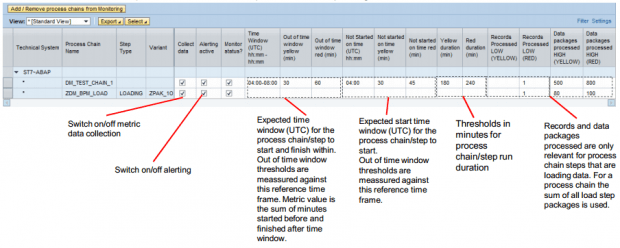 One of my colleagues is currently implementing this for one of our major Oil and Gas customers, who hope to save the thirty minutes of support time that they spend on checking process chains every day.  This time will be reduced to zero except in the case when there is an actual problem to look at.  The near real-time nature of the monitoring will combine with our support centre to ensure process chains are running, especially for key times in the fiscal cycle.
Quick Win 3: EarlyWatch Alert Report with Automated Emailing
Time to set up: Less than a day, with more time to review and implement recommendations in the reports.
Return on investment: Improvements to system performance can have significant business advantages.
EarlyWatch Alert produces reports on the health of your SAP system, including a range of useful advice.  Unlike the System Monitoring above it is not a real-time solution and instead provides a document that you can review with higher level issues.
The information in the reports is not difficult to gather manually, but it would be time consuming to do all of it by hand.  EarlyWatch is a great way to see everything at a glance without spending time, and as the content of the document is provided by SAP you automatically get alignment with their current best practice.
With the most recent Solution Manager support package stacks, EarlyWatch should work as long as you have followed the 'Full Configuration' process during 'Managed System Configuration'.  You can see the reports in transaction SOLMAN_WORKCENTER on the 'SAP Engagement and Service Delivery' workcenter under 'Reports' then 'EarlyWatch Alert'.
Working reports will have a coloured icon beside them, such as a yellow triangle.  Where a report has not run it shows a red flag, which can be resolved by checking the configuration in transaction SDCCN in the managed system.  You can view the reports in the SAP system by pressing 'Display HTML Report'.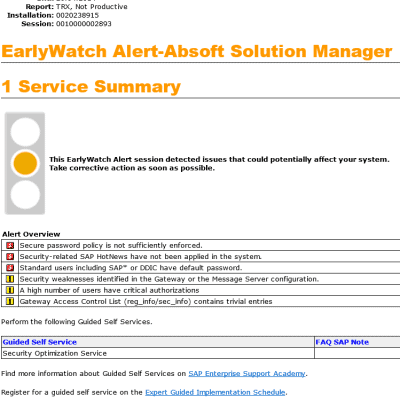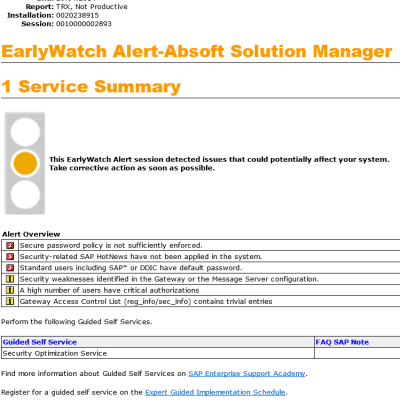 Cases where your configuration is insecure, components are not up to date, or performance is poor are listed in the report for your review. There is a lot of good material in the reports, but it's important to review it with appropriate SAP expertise to create a plan to implement the relevant or important areas and not be concerned with a few issues.
We are often consulted by our customers when they are reviewing their EarlyWatch Reports, and out approach typically involves listing all issues present then adding any other similar issues that we are aware of, or that they suggest, to create a full list of possible areas to look at. We describe the activities to repair each issue, and help the customer understand the importance so that they can rank them by priority and risk. Finally we help combine the repairs into an efficient and low-risk programme of changes and downtime.
The results from resolving the issues in an EarlyWatch Report can be a significant improvement in system performance. One of our major Oil and Gas customers had issues with BW performance that was affecting their key reporting and throttling parts of their organisation. There wasn't one single problem to address, so we needed to tackle the general configuration of the systems which makes it difficult to know where to start.  We used EarlyWatch combined with recommendations from consultants to produce a list of repairs as described above.  As we worked through the repairs the improvements to the system were gradual but striking, with some extractor runtimes reduced from 8 hours to 1, or reports running in 30 seconds rather than 15 minutes.
A useful trick with EarlyWatch is to configure the system to send you the report by email every week.  This is useful as you can see if any new issues have arisen, if SAP have released any support packages you should be considering, or if your system performance has changed over time.  Add your email address to the distribution list in SOLMAN_WORKCENTER under 'System Monitoring' then 'Setup' and 'Configure Automatic Reports Mailing'.
Quick Win 4: Use CTS+ to Improve your HANA, Portal, or PI Transport Management
Time to set up: 1 day
Return on investment: Allowing helpdesk or other employees to move non-ABAP transports can save time from your core teams.  Improved change control can improve the stability of your systems.
STMS is a well-known transaction in all ABAP-based SAP systems.  It moves transports between systems, enforcing your change control system and ensuring testing happens along the way.  It's a lot more controlled than manually importing transports to systems, as is commonly done with Portals, PI or with HANA objects.
Enhanced Change and Transport System (CTS+) is SAP's system to manage non-ABAP transports such as Portal, NWDI, PI and HANA transports from the STMS transaction.  CTS+ is not actually Solution Manager functionality as it can run in any ABAP stack, but Solution Manager is an ideal place to configure it as a separate administration system and avoid misusing the ABAP stack for one of your other SAP products.
CTS lets STMS interface with the transport management system in a non-ABAP system through web services.  You need to configure transaction STMS to use a Deploy Web Service that is provided by the non-ABAP system.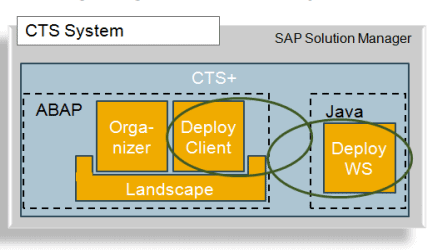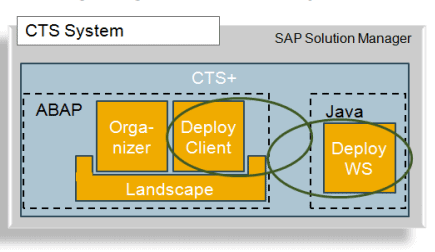 STMS configuration is out of the scope of this article, but if you are comfortable with setting up transport routes and adding systems to the configuration, CTS+ is a reasonably easy job.  Set up the web service in your Java or HANA system, set up an RFC connection to this web service, then configure in STMS.  The details are available from SAP for HANA and Java systems.
After you've been through the configuration, the result is that your non-ABAP systems will appear in transaction STMS with all the benefits this brings.  You can push transports into the systems from STMS, STMS can enforce change control procedures or quality gates and STMS keeps records of moved transports whilst greatly simplifying the technical steps to move transports.
The main benefit of CTS+ is improving your change control.  You no longer need to worry if your team are following your procedures to import objects into your HANA systems or deploy content in your Java stacks, and can achieve much tighter control whilst making life easier.  The added simplicity could give you a cost saving too, as you can potentially allow more people to move their own transports or enable a helpdesk to perform these activities rather than taking up the time of your basis team.
Quick Win 5: Use CUA to Improve your User Management
Time to set up: 1-2 days
Return on investment: Can allow your helpdesk to take on more user management activities to save time from your core teams, and eases management of users across multiple systems.
Central User Administration (CUA) lets you define a master client from where you can control users for other child clients.  This lets you perform operations like global password resets or locks, or create a user on multiple systems at the same time.  The advantages of CUA can be significant time savings in user management activities, and the ability to manage systems from a central location meaning user management users (eg. helpdesk) don't need admin access directly to your production SAP systems.
CUA is another example of functionality that is not actually part of Solution Manager, but the Solution Manager system is well placed to hold the master client as an administration system without misusing another system for the purpose.  CUA is considered very mature technology now and has been replaced to an extent by products like SAP Identify Management, but CUA is still very widely used, fully supported, and unrivalled in its simplicity and low cost.
Setting up CUA is reasonably simple, with some excellent transaction names to use whilst you are doing it.  After defining logical system name, users and connections, you create the CUA with transaction SCUA, set up which fields are controlled in transaction SCUM, then synchronise your users with transaction SCUG.  The full setup details are available from SAP and are presented step-by-step to define and configure.
CUA and CTS+ together in Solution Manager start to give you some real benefits as you can begin to use Solution Manager as the go-to system for your helpdesk.  Giving transport responsibilities to the helpdesk along with user management from a single Solution Manager system lets them manage these tasks very efficiently for your end users, without needing to give excessive training or system access to the helpdesk.  The cost savings and service improvement that is possible makes for a strong business case.
Quick Win 6: System Recommendations
Time to set up: None.
Return on investment: Faster issue resolution, more secure systems, faster discovery of SAP Notes.
I discussed the content of this blog with a colleague employed as a basis administrator for one of our customers, and he suggested the 'System Recommendations' function which is available on the 'Change Management' tab of transaction SOLMAN_WORKCENTER.
It will show you a list of notes, grouped by component, for your specific systems with their specific patch levels and releases.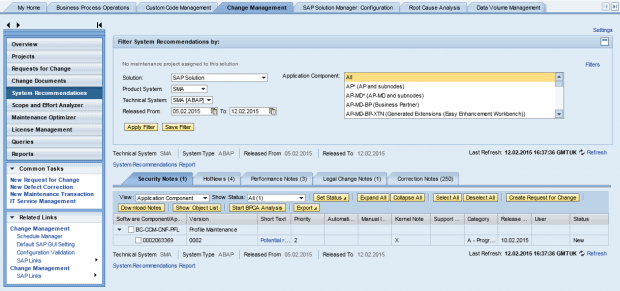 This is a really quick win as the screen works if you have completed the Managed Systems Setup for your systems.
Our customer uses it to find potential problems before they happen, and also for troubleshooting to find notes that relate to the component having issues.  You can also pick up security notes or higher priority notes from the relevant tabs to apply promptly, whilst referencing less critical notes where needed.
Next Steps
Dabbling in small areas of Solution Manager is a great way to start making real use of the system and moving towards a return on your investment.  If you achieve some of these quick wins you are well placed to make an informed decision about how much more you want to do.
We've found Solution Documentation is a good area to look at if you are implementing something new.  Perhaps if Solution Manager is starting to become useful within your organisation you could try this on your next implementation project.  It helps you to document the business processes you are implementing in a structured way, and integrates with other areas such as transport management and test management so everything starts to come together.
Potentially your next go-live could feature transports across several systems, all fully documented, with automated testing and full business process documentation.  Solution Manager can do it if you invest the time, and getting started is the first step.
by Robert MacDonald, SAP Consultant