With analytics being a topic hotter than ever and SAP Analytics Cloud being one of the best solutions out there, our experts have gathered all the information you may need around SAC in this blog post. You will also find insights from projects we have completed with current clients including unique solutions and pathways. We hope you find this detailed piece useful! 
Don't hesitate to get in touch if you require any help or have a question. 
Here is what we will cover in detail: 
What is SAP Analytics Cloud and how does it work?
What are the benefits of SAP Analytics Cloud?
SAP Analytics Cloud Connections
Using SAP Analytics Cloud
SAP Analytics Cloud with Microsoft Office
Integrating SAP Analytics Cloud?
Planning and Consolidation
Predictive Analytics and AI
SAP Analytics Cloud Digital Boardroom
How does SAP Analytics Cloud compare to other products?
Let's briefly introduce SAP Analytics Cloud (SAC) – built on the SAP cloud platform, SAC is the flagship analytics AI product from SAP. SAC is a SaaS offering, unique in the market by combining Business Intelligence, Planning and Predictive analytics in one cloud solution.
SAC connects to various data sources (SAP, Non-SAP, Live, On-premise, Cloud etc) using SAP Data Connectors. Data Wrangling in the models cleans and transforms the data using intelligent tools. Public Dimensions can be created and used across many models. The first step in gaining insights from Analytics Cloud is to connect the data we have collected about our business to the software (SAC). This can be accomplished either by importing data, such as from .csv or Excel files, or by making a data-connection to an on-premises or cloud-based data source. Once our data is connected, we will use it to create a model.
A model is a clean and defined version of our raw data, and it will be the basis of our analysis. We can create analytical models to analyse your actual business performance across different functions.
Planning models can be created to plan collaboratively across all functions of your organizations. Data can be visualised using stories, charts, tables, geomaps, etc., and stories are where you explore and visualize your data for reporting, planning and analysis.
Furthermore, you can simulate business scenarios and "what-if" analysis using value driver trees and predict your future sales using Machine Learning Algorithms. You can start using pre-build dashboards for Finance, Sales, Procurement, Supply Chain, Human Resources and many more by utilising the Business Content packages.
SAP has delivered Business Content Packages along with it's partners across the Line of Business (LoB) and various industries (banking, chemicals, oil & gas, healthcare, insurance and so on) to accelerate your analytics. It is a ready-to-use package with demo data that you can plug-in to your source systems to analyse the data using business content packages. SAP also delivered Business Content Packages for planning i.e. Product Cost Planning, Sales Planning, Financial Planning & Analysis, FI Operational Expense Planning and many more.
One of the main advantage of SAC is that it truly enables the intelligent enterprise by providing everyone with the insights to make confident decisions and take action in the moment.
COMPLETE – Make end to end decisions with all analytical capabilities of BI, Planning and Predictive in one place. You don't have to invest in multiple products and services as we get all these services under one single hood.
CONTEXTUAL – Gain enterprise-ready insight and take action within your business processes.
CONFIDENT – Make smarter decisions with AI driven insights delivered to you naturally. We can confidently take decisions which are powered by AI and Machine Learning without the need of learning coding.
Most likely, you are following different solutions in your company for Business Intelligence and Planning. These solutions are either going to be deprecated or moved to another reporting solution in the near- or long-term future. Let's see the "before and after move-to-SAC" graphic:
Various reporting solutions used currently across the organizations:

The following existing solutions need to be moved to SAP Analytics cloud: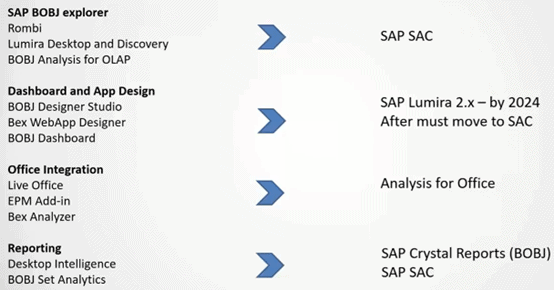 Planning, SAP content and business content are the main differentiators of SAC and the main thing that makes it a complete one-and-only solution for all of the above needs. 
 10 reasons to move to SAC
There is no need to invest in multiple services and products – you get the BI, Planning, Predictive Analytics under a single hood.
Live connection to on-premises data sources without moving the data to the cloud.
Pre-built industry and line-of-business content, built by the Vendor and its partners to accelerate your enterprise analytics projects.
Hybrid analytics – offering on-premise and cloud that work together.
Embedded machine learning in business applications with process and workflow with semantics and business logic.
Board and C-suite analytics with large touch screens display UX with SAP Digital Boardroom.
End-to-End data management and analytical capabilities that work seamlessly together.
Planning and Analysis embedded with ERP.
Smart Assist offers AI features to "expand the conversation beyond just visualizations, charts, and data connectivity, offering easy-to-consume machine learning capabilities embedded deeply within SAC, alongside and integrated with BI and Planning.
Predictive analytics uses machine learning techniques and statistical modeling to make predictions about future outcomes based on historical data. Predictive capabilities in SAC is inbuilt, which means it has its own engine to train the data.
SAC is SAP's flagship end-to-end analytics product combining Planning, Business Intelligence and Predictive capabilities in one and it remains the strategic direction of analytics for SAP. A move to SAC is the recommended path for current BusinessObjects customers. Review the most recent statement of direction for SAP BusinessObjects and learn more on how to prepare for the changes here.
What is the Future of SAP BusinessObjects?
SAP now offers a free SAC trial for up to 90 days. Initially, the SAP Analytics Cloud Free Trial is available for 30 days but it is possible to extend it for an additional 60 days after the first few weeks of activation. Please, get in touch if you'd like to try SAC for free or for any other related queries. Absoft's highly skilled and fully certified analytics team will work with you and advise you wherever you are on your analytics journey.
Once you have received your SAC free trial confirmation and details you can easily login to SAC using your credentials. 

SAP Analytics Cloud Connections
Using SAP Analytics Cloud

SAP Analytics Cloud with Microsoft Office
Yes, SAC works with Analysis for Microsoft Office.
This is a good offering and could address the planner's need for Excel front end to enable them to perform data input by leveraging their local spreadsheets.
SAC add-in for Microsoft Office uses Excel to gain insights into your SAC data. You can insert one or more models in a workbook and add or remove the dimensions/measures to analyse the data. Data from on-premise and cloud can be brought together in the workbooks.
For planning, you can add data for planning and save it back to the cloud.

During your analysis and planning, you can update your table with the actual data from SAP Analytics Cloud at any time.
SAC supports export to CSV or Excel. You can export both acquired and live data from a chart, table, or explorer as a CSV or an XLSX file.
Keep in mind that there are certain limitations on the cells and columns. 
Integrating SAP Analytics Cloud
Yes, SAC has APIs called URL API and REST API.
URL API enables embedding SAC stories in third-party applications.
Using SAC REST API endpoints, any requesting authorized application can access data stored on the tenant.
SAC Embedded Edition is offered as a service on top of BTP, under the Cloud Platform Enterprise Agreement (CPEA) enabling developers to easily and quickly access and activate the service to build and integrate the analytics using APIs into their application using Live connectivity with SAP HANA. SAC EE is only available on Cloud Foundry and only supports live connectivity and SAC BI capabilities.
Planning, predictive and Analytics designer features are not supported on SACEE.
Yes, SAC is embedded in SAP S/4 HANA. The embedded SAP Analytics Cloud is fully managed by SAP S/4HANA Cloud, which exposes the embedded SAC functionality through Fiori applications.

Realtime analytics from SAC in the heart of the SAP S/4HANA application allows an action to be taken from analytic insights that has immediate operational impact and provides a single view for users of the system. 

SAP S/4HANA Cloud provides exceptional analytics capability as a key feature, and making effective use of embedded analytics is key to gaining business benefits from SAP S/4HANA.
Planning and Consolidation
Predictive Analytics and AI
Predictive Analytics is used when we want to predict the future/forecast. It gives a perspective of the future which is an extension of analytics. Combined, analytics and predictive analytics provide business leaders with a clear, detailed view. The prediction will be done based on past events and most recent experiences to predict what would happen in the future. It is very important to choose the correct size, type and quality of data to get the best results with ultimate accuracy.
Yes, SAC is powered by AI. The following features available in SAC use Artificial Intelligence:
Search to Insight – Search to insight basically allows you to do a Google-like search in all the visualisations, stories and data models you have created and it is business-context aware. This also allows you to quickly find the data that you are interested in. Answers are provided using charts or numeric values based on the question type, enabling you to make data-based decisions.
Smart Insights – Machine learning will enable smart insights in the text format which makes user's life easier. You can embed insights into the charts which shows the relation between different KPI's and their behaviour.
Smart Discovery – With smart discovery, SAC uses predictive modelling and simulations to understand the data and uses automated algorithms and process the information to show the factors which influence it.
Smart Predict Services – The predictive capabilities are built in SAC. With the introduction of SAP Analytics Cloud's smart predict functionality, business experts and analysts can easily do data science even if they aren't comfortable with statistics and algorithms. The intuitive user experience and features of smart predict help business users and analysts to build predictive models in minutes, starting from data and creating meaningful insights. You can import actuals from S/4HANA cloud, create a predictive model which derives automatic forecast values, create a story on this data and publish back this forecast data to S/4HANA Cloud.
SAP Analytics Cloud Digital Boardroom
SAC digital boardroom is an optional offering along with SAC in productive accounts to view connected insights across multiple stories at one place.
Technically, it's a collection of many stories across the departments in a company. It provides a large touch-based user experience screen for board meetings.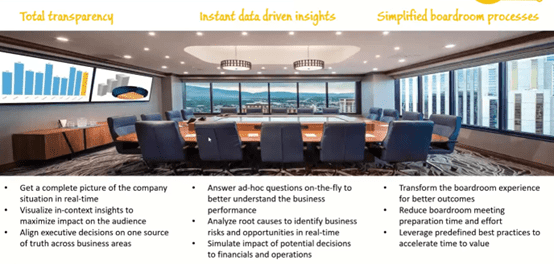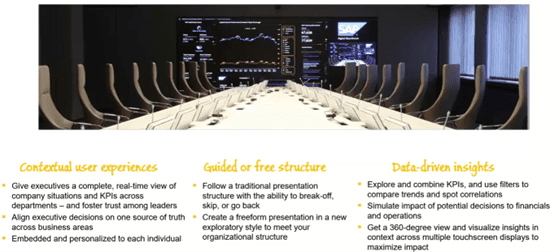 Total transparency: Information and data may not be synced across all departments and the leaders are often in the dark. That's where the Digital Boardroom comes into play – bridging the gap and allowing for total transparency and confident strategic decision-making. 
Instant data-driven insights – Digital Boardroom lets you get a 360-degree view across all lines of business and operations, insight at any level of detail, and detect weaker or more complex patterns in the data using the smart-assist capabilities and machine learning processes.
Simplified boardroom processes – Bye bye to the classical PPT-based presentations where you'd put a lot of legacy data by taking snapshots of it!
You present the live data to the board members directly in SAC which allows them to drill down, slice and dice the data right there and then. It reduces the preparation time as all the existing stories are brought together directly into the boardroom presentation.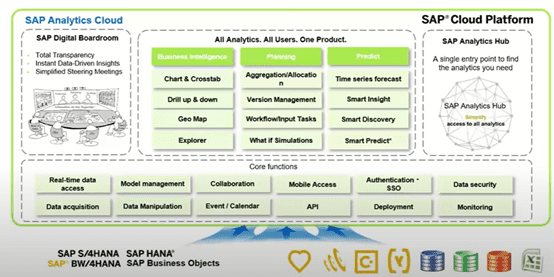 How does SAP Analytics Cloud compare to other products?
Check out more of our detailed articles and use cases on: