The User Experience (UX) is everything that happens to the users when they interact with the application or website. It incorporates everything they can see and hear, tasks they can perform as well as their emotions.
If on one day you sit in your home and order new shoes on Amazon and the next day you come to work and try to order new materials through SAP – you expect the same ease of use.
The world is changing and the user experience is the new standard. Many successful companies like Apple, Google, Facebook, and Amazon are excelling at their UX which is a major contributor to their achievements. They continuously test and innovate the UX to ensure high level of customer satisfaction.
There is a noticeable trend in the industry of shifting the focus just on functions and features to experience. In the past, the most important was to focus on the optimisation of business process and technology which strongly relates to SAP. Times are changing and now we can clearly see a shift to provide better experience for the end users.
Why should your business care about UX?
UX is becoming more and more important and should not be overlooked if your company wants to stay competitive. Companies focusing on UX design are more successful.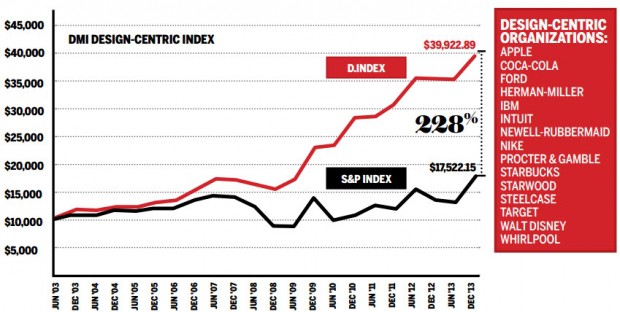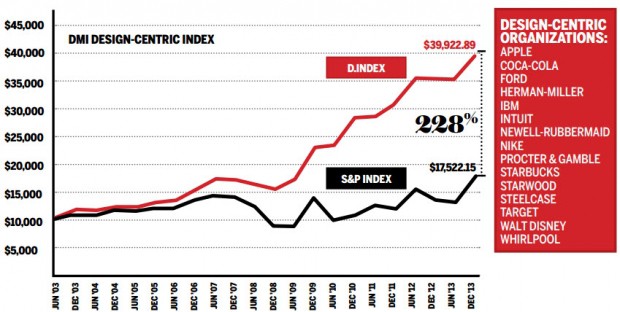 (Image source: http://c.ymcdn.com/sites/www.dmi.org/resource/resmgr/Docs/DMI_DesignValue.pdf)
Improving UX is not just about making the user interface looking better. It is also about reducing the operational costs and enabling users to work more efficiently. The benefits of adopting good UX experience strategy can be split into two main categories: non-monetary and monetary
Non-monetary benefits:
Increase user satisfaction (People are happier working with the system and enjoy using it)
Increase solution adoption (More and more people will use the solution. Most of the times people, especially casual SAP users are put off the system due to the complexity of screens and do their best to avoid using it)
Strengthen relationship between IT and business (Since UX is designed with user in mind, they should be taking an active part in the design and test process. Their feedback is the most important as they are the ones that will be using it)
Monetary benefits:
Gain productivity (Enabling users to solve tasks faster makes a big impact on employees' productivity)
Save training costs (Especially important to companies that rely heavily on contractors. A lot of money can be saved if the repetitive process of training new contractors can be reduced from e.g. 3 days to 1)
Decrease user errors (Leading to better data quality)
Decrease change requests (McAfee UI redesign saved them 90% support costs)
Good UX within the company is also important from the talent recruitment and retention point of view. Young generation starting in companies doesn't want to work with clunky software – they expect to use simple solution and may not join your company.
How much can your company save?
Although the initial cost of implementing a custom SAPUI5 or Neptune app may seem to be higher than implementing a standard solution but it can result in long term savings.
If you are wondering how much money could be saved by improving the user experience of your current software try the created by SAP UX calculator here: User Experience Value Calculator.
By entering some data such as employee's annual salary, task completion time, training costs, or support cost you can estimate the annual savings that can be made.
Absoft has prepared a use case for replacing the standard way of raising a notification by a technician for an Oil & Gas operator with our 'Report a Problem' Neptune application. It turns out that the estimated annual savings can be as much as £200 000. Below is the result breakdown: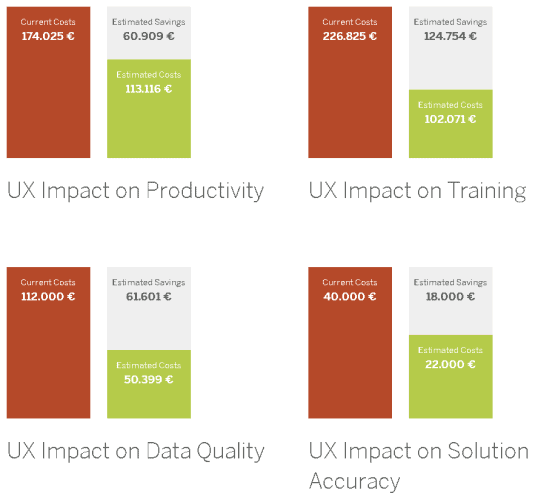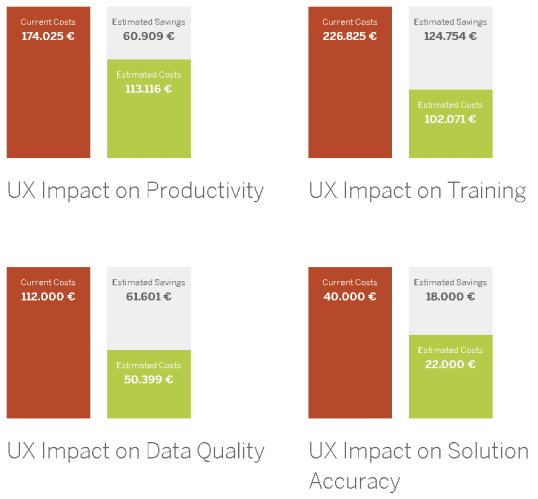 How can you improve UX in your SAP system?
SAP Fiori
The new user experience for SAP software, built using SAPUI5 library. It is a collection of standard off the shelf role based apps. Various roles in the HR, Finance, Manufacturing Procurement and Sales lines of business. It can be deployed to your system with no additional licence cost. Standard Fiori apps can be tailored to meet customer needs by enhancing them just like the old GUI transactions (similar idea to BADIs and customer exits). You can explore the available FIORI apps from the Fiori apps library. You can also experience the use of Fiori apps here.
Example of Purchase Requisition creation. Old SAP (GUI) vs new (Fiori):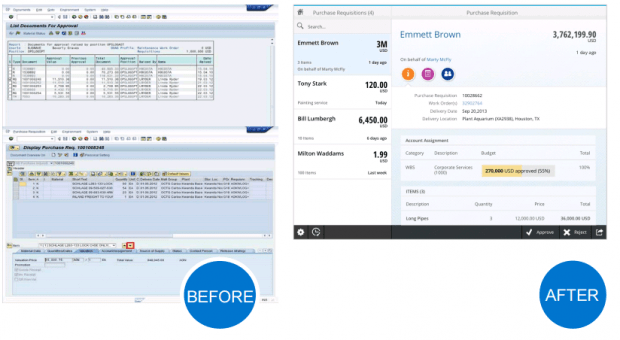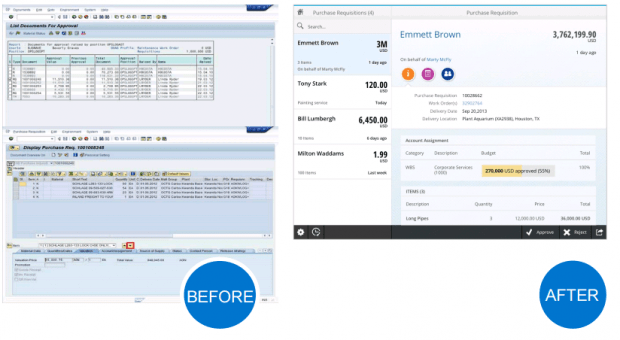 (Image source: www.opensap.com)
Custom SAPUI5 Applications
SAPUI5 is a HTML5 rendering library with a rich set of UI controls for building applications on any device. Enables developers to create custom apps of the FIORI look and feel as FIORI is based on SAPUI5 library. (Custom SAPUI5 apps are like custom Z programs in your system). SAPUI5 apps are usually built using either SAP WEB IDE or Eclipse IDE for the front end and Netweaver Gateway for the back end. No additional licence cost needed.
Custom Neptune Applications
Neptune Software is a tool that provides a cost effective way to create custom SAPUI5 applications with the FIORI look and feel. No need for Netweaver Gateway as it directly leverages SAP's own source code ABAP. Easy to install as an SAP add-on. There are going to be over 100 Neptune Apps available summer 2016 across all modules which can be installed and adjusted to company needs with little effort. Provides capabilities to create offline apps as well as features for app deployment without any additional software. Licence cost is involved.
Conclusion
A fundamental shift in how we are using our software is happening. Therefore, there isn't a question if you should adopt a user-focussed design of your business application, but when and how. Especially the how is not just about ticking a box to make a screen look nice, but stepping back from 'the way you always have done it' to review what you do from the outside and then design the user interaction with the individual end user in mind.
Want to know more? Find out more about our SAP Fiori apps or arrange a demonstration today.