SAP S/4HANA is the next generation of ERP product from SAP. With a new user interface, new real-time analytic capabilities and new functionality across lines of business it is full of new features to help businesses become more competitive, but how do you find out which features could be helpful for you?
This blog provides three steps to find the features and benefits that are relevant to your organisation, so you can create a business case for S/4HANA.


The Business Scenario Recommendations tool is the best place to start for identifying relevant functionality in S/4HANA.
The Business Scenario Recommendations tool produces a free report from SAP that shows the most relevant functionality for your organisation based on your current SAP system usage.
To create a report you need to visit the Business Scenario Recommendations website. There is a simple form to fill in with some of your basic details, where you upload a simple extract from ST03N in your SAP system that lists the transaction codes your users have run recently. You will get back a report within five days.
You can look at an example report first to get an idea of what to expect. The report ranks recommendations in order of relevance to your business, with the business value and benefits you can expect to see if you implement the new functionality.
Top tips to get the most value from Business Scenario Recommendations:
> Tip #1: Send three months of ST03N data, including a period or quarter end, to get the most relevant recommendations.  The more data you can include, the more relevance the report will have.
> Tip #2: Ensure functional consultants review the report and pull out relevant functionality for your organisation.  The automated report itself requires some human analysis to help you to get the most benefit from the results.
> Tip #3: Run a workshop with your business departments to go through the new functionality in your own organisation's terms, and try to understand what it could do for you or help you to beat your competition in each area.  The results of the workshop will start to form your business case rather than the report itself.
If you need any assistance with requesting, reviewing or interpreting your Business Scenarios Recommendations then please contact us and we will be happy to assist you.


The user interface has more impact on how the system is seen in your organisation than anything else. SAP S/4HANA has the new Fiori user interface. Fiori runs in a web browser and offers a similar level of user experience to consumer applications.
Why Fiori?
Fiori improves user satisfaction and reduces training costs, and it is also designed for efficiency and often means the same operations can be performed more quickly than through SAP GUI.
This video shows End-to-End Inventory Management run through in Fiori and SAP GUI side by side, comparing time duration, clicks and screen changes. The Fiori applications take half as long as SAP GUI with half as many clicks to complete the same activities.
You can also see our playlist of SAP's side-by-side Fiori comparison videos for other applications and business areas.
How can I identify relevant Fiori apps?
To identify the Fiori apps that are relevant for your business, you need the Fiori Apps Library. You can filter the available apps by Line of Business, Industry and Roles to find applications that are relevant for your pain points.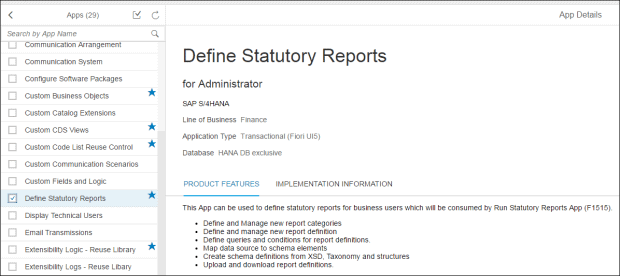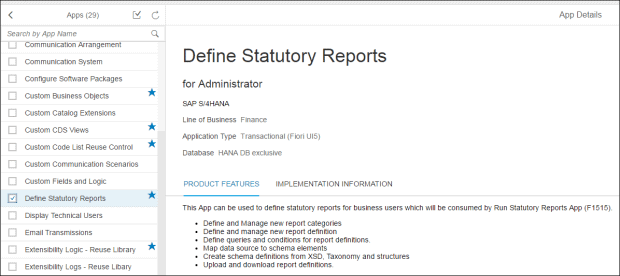 Each application you find will display the system requirements, including the software and database requirements. You will quickly find that many applications require the HANA DB or S/4HANA, and if these applications are useful to you they are part of your S/4HANA business case.
Is Fiori difficult?
> No, Fiori is very easy to implement and use.
You can install a Fiori app, even in an ERP 6.0 system running on any database, in as little as four steps. You may wish to filter the Fiori Apps Library to show only applications that work on your current software and database and try to deploy some applications as a proof of concept before moving to S/4HANA.
Making custom developments in Fiori does require some new development skills, but for custom applications with a similar UI5 user experience you can try our partner solution Neptune so that your ABAP developers can create applications with their existing skills.
In general the traditional ERP 6.0 transactions are still available in S/4HANA so all of your existing SAP power users will be able to use their skills to maximum effect in the S/4HANA system whilst also benefiting from Fiori applications.
Working with the business
If you have run a Business Scenario Recommendations report as recommended above, you should combine relevant Fiori apps into a business workshop around the new functionality to show the users how an upgraded system could look and feel.


S/4HANA includes Embedded Analytics so you can analyse your ERP data in real-time without external data warehousing.  You can get a detailed report on live data at any time without having to wait for data to load into a data warehouse.
Find a business benefit of reporting
To add value and make your business more competitive, you need to find:
A report you cannot run in your current software.  For example, limitations of a traditional database may prevent you from getting reports with enough detail or quickly enough to be useful.
A report that you have to wait for or plan, which delays a process or means you are reacting to old information.
Reports or reporting tools that are so complex to use or maintain that your users struggle to make effective use of them.
If your organisation faces difficulty with any of these, embedded analytics in S/4HANA can form part of your business case.
How does S/4HANA Embedded Reporting Work?
Content is included in S/4HANA that provides useful reporting views on standard data. As of the 1610 release of S/4HANA there are over 8000 views and 143 embedded analytic applications.  You can use these directly in reporting tools or extend them to meet your needs.
S/4HANA provides user-friendly Fiori apps to browse and create reporting views:
Query Browser shows the supplied queries you can use to access your data
View Browser shows the views on the underlying database tables
Custom CDS View helps to define a custom view
Query Designer helps to define a custom query
If you run a trial or proof-of-concept of S/4HANA, you can use the Query Browser and View Browsers in your own system to identify the supplied content that you can use for reporting. If you don't have a system, contact Absoft and we can help you.
This is an example of SAP's Lumira reporting tool displaying real-time information on the equipment that is most costly to maintain and repair from Absoft's Advantage Oil and Gas solution:

The three areas I've described in this blog should give you a great start to identifying the functionality that S/4HANA offers to benefit your business and give you an edge over your competitors.
If you need any assistance with any of the tools I've recommended, interpreting the reports or facilitating workshops and writing your business case please contact Absoft and we will be happy to help you.
by Robert MacDonald, Senior SAP Consultant