The challenge
The recent stabilisation in oil price has provided a context in which acquisition and divestment plans shelved during a period of volatility, are being dusted down and actively progressed. Operators are streamlining portfolios to generate working capital and emerging operators are in pursuit of cost effective expansion.
With a significant number of assets in the region likely to become available for sale in the future, it's likely to be a buyer's market. The challenge for the seller is to make any proposed deal as predictable and as risk-free as possible.
One, often underestimated, aspect of securing a predictable and risk-free asset transition is ensuring that core business systems are in place by the transition date. Issues arising from the migration of commercially sensitive information, business processes and business systems can have the potential to a) delay the completion date and/or b) lead to significant losses in efficiency for the new owner, as their people get used to new systems and processes.
In one notable instance, Absoft was engaged to assist with a business systems migration to support divestment for a global supermajor – but with only weeks until the transition date, Absoft was challenged to develop a pioneering technical solution.
A pioneering methodology
Absoft was tasked with separating essential data from the supermajor's SAP ERP and delivering a technical solution to develop a standalone system which was to be offered as part of the sale in only seven weeks
Typically, these migration projects can cost millions and last anywhere between six and nine months. Extensive preparation is required to isolate, separate and map information to new systems and processes, often under restricted security layers and protocols.
The completion date was non-negotiable. With open balances and an audit trail of historical financial information required for an imminent tax audit, the buyer's SAP ERP system had to be fully operational and compliant with local legislative requirements from day one of the divestment.   
Behind the firewall
With more than 20 years' experience in upstream oil and gas, Absoft was successfully awarded the migration project based on our unrivalled track record./p>
We knew, however, that the timeframe proposed to complete the divestment required a new, different approach from anything we had delivered before. Without reference points from previous project delivery, Absoft's consultants rose to the challenge to pioneer a custom technical solution using a robust methodology.          
A key enabler which allowed us to meet the date was that our consultants were allowed behind the firewall of the seller's system, whilst under the watchful eye and control of internal teams. 
Working with internal teams onsite, Absoft consultants analysed the supermajor's SAP ERP system and prepared the business data and technical solution specific to the assets being sold. Absoft performed the operational work of the separation in stages, and at each point, internal teams would approve that they were satisfied the data, and other commercial sensitivities, were being respected.
Absoft consultants have first-hand experience of finance processes in upstream which helped alleviate the additional workload burdening in-house teams to project manage the system separation.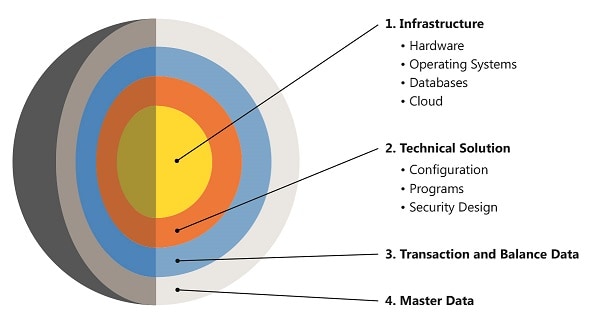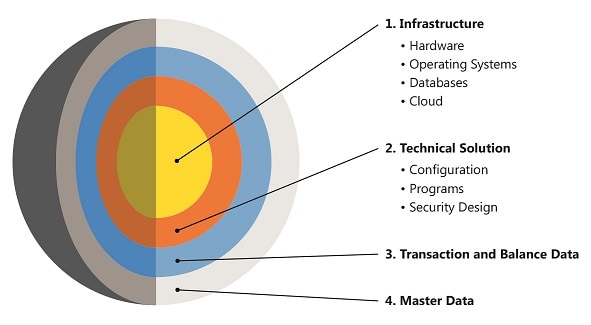 Fully hosted environment
The proficiency of Absoft consultants to work, often unaided, and within this limited timeframe was supported by the strength of our own systems. Applying our Managed Service offering, Absoft was able to migrate the information to their own hosted environment for system monitoring and patching before porting the system into the buyer's new SAP landscape.     
Upon arrival of the completion date, both systems were fully operational with no operational downtime or dip in performance. 
The ultimate commendation for the success of the migration was that neither party, the seller nor the acquirer, noticed the difference! The supermajor's system continued to operate unchanged, and the buyer was delivered a fit-for-purpose solution. 
SAP support phase
Post migration, Absoft quickly shifted their emphasis towards an SAP support phase. A team of Absoft finance consultants remained an onsite presence to monitor the operational efficiency of the supermajor's SAP ERP system.
Our expert consultants combine technical knowledge and industry experience to ensure SAP system landscapes do not obstruct the sale or purchase of producing assets – either as embedded SAP experts based on customer sites, or remotely, from Absoft's dedicated Upstream SAP Service Centre.
An asset is simply of no use to our customers if it doesn't have an operational IT landscape and back office systems to support day-to-day operations. It's our focus to ensure systems remain fully functional before, during and after the acquisition or divestment. For more information, contact Don Valentine: dvalentine@absoft.co.uk 
Downloads